Sortie le 4 décembre au Japon.
On a la couverture: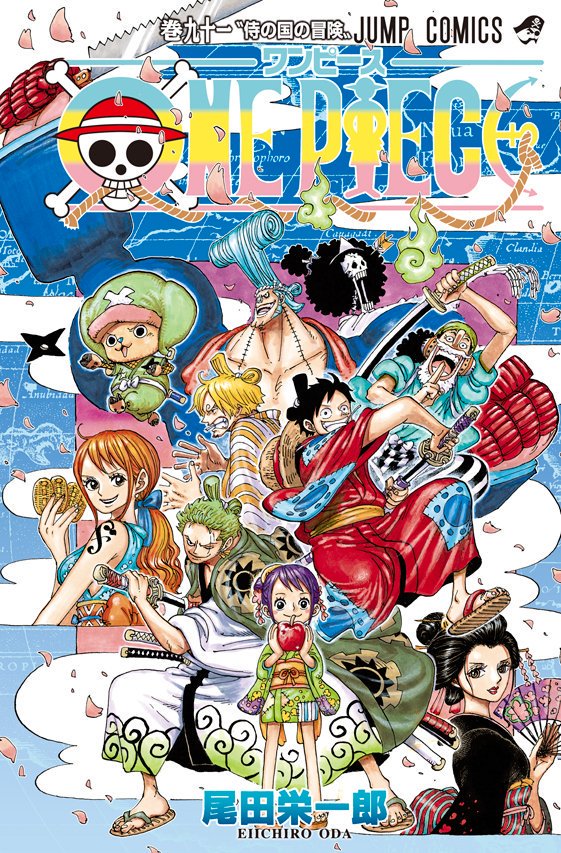 ---
Empereur
Messages : 8970
Inscription : jeu. mars 31, 2005 8:10 pm
Contact :
Très très jolie !
---
Je suis super fan !
Y a eu tout de même un certain nombre de couvertures avec tous les membres d'équipage réunis, et Oda parvient toujours à varier les compositions.
Celle-ci figure déjà dans mes favorites.
---
Vice Amiral
Messages : 2609
Inscription : sam. nov. 21, 2009 5:30 pm
Localisation : Grivegnée
Contact :
Jolie couverture même si Nami coupée c'est bizarre et j'aurais aimé un style graphique plus audacieux comme les premiers de Wano
Du pixel et des frites - retro gaming
#
Team Ecsite : Parodies de One Piece
#
Mon Blog
Dans les capitaines, je suis Moria ... trop sympa les gars :/
---
Superbe, ça fera de très belle figurine cet arc
---
les sbs arrivent sur arlongpark et orojackson

Galette has Bata Bata no Mi (butter butter no Mi). She is a Butter Human.

Morley has the Oshi Oshi no Mi and built the area in Impel Doen that would later become Newkama Land. He/she is currently 160 years old and was once imprisoned in Impel Down 100 years ago as a pirate.

Zoro at age 40:
"Its four sword style Zoro...!!"

Zoro at age 60:
"Its five sword style Zoro...!!"

If something went wrong timeline

Zoro at age 40:
"This wound from a sword on my back hurts!"

Zoro at age 60:
"I gave dogeza, so give me some money."


Oda confirms Morley to be the person who dug up the New Okama Paradise in Impel Down (Lv 5.5).
Morley's DF power can push and break various types of stuff. It is possible for him/her to push the earth and dig up a hole underground.
Morley is 160 y.o. this year. More than 100 years ago, when he/she was a violent pirate, Morley got arrested and dug up that space in Impel Down. He/she escaped the prison without other people ever knowing, but got involved in some event. Actually he joined the Revolutionary Army only recently. Morley and Ivan-san get along quite well, but Ivan-san was sent to Impel Down. Although Ivan-san turned the hole Morley dug into the New Okama Paradise, he/she doesn't know that the hole-digging DF user was Morley.
---
Capitaine Corsaire
Messages : 11376
Inscription : lun. oct. 14, 2002 8:52 am
Localisation : dans toutes les bonnes auberges
Contact :
---
C'est marrant j'étais persuader que Oda dessinait tout à la main.
---